AI's Malicious Use and Challenges to International Psychological Security
0
585 Views
21 December 2022
Evgeny PASHENTSEV, leading researcher at the Diplomatic Academy, Moscow
In December 2022, the International Center for Social and Political Studies and Consulting published the second report "Experts on the Malicious Use of Artificial Intelligence and Challenges to International Psychological Security", penned by this author. This report stems from the re
citește mai mult
Online Lecture by Professor Evgeny N. Pashentsev "Global Changes, Challenges for Eurasia and Prospects for International Development" to the audience of China Foreign Affairs University, CFAU
0
459 Views
13 December 2022
On November 21, 2022, the School of National Security of the China Foreign Affairs University (CFAU) organized a lecture by Prof. Evgeny N. Pashentsev, a leading researcher at the Institute of Contemporary International Studies of the Diplomatic Academy of the Ministry of Foreign Affairs of the Russian Federation.
The lecture was on the topic "Global Changes, Challenges for Eurasia and Prospects for International Development" w
citește mai mult
The Malicious Use of Artificial Intelligence Was Discussed at the XIII International IT-Forum
0
1226 Views
15 June 2022
Darya Matyashova, Researcher, Saint-Petersburg State University, Intern of the International Center for Socio-Political Research and Consulting
On the 7-9th of June 2022, the 13th International IT-Forum was held in Khanty-Mansiysk. The Forum attracted more than 5,000 participants from around the world, especially those from BRICS and SCO states.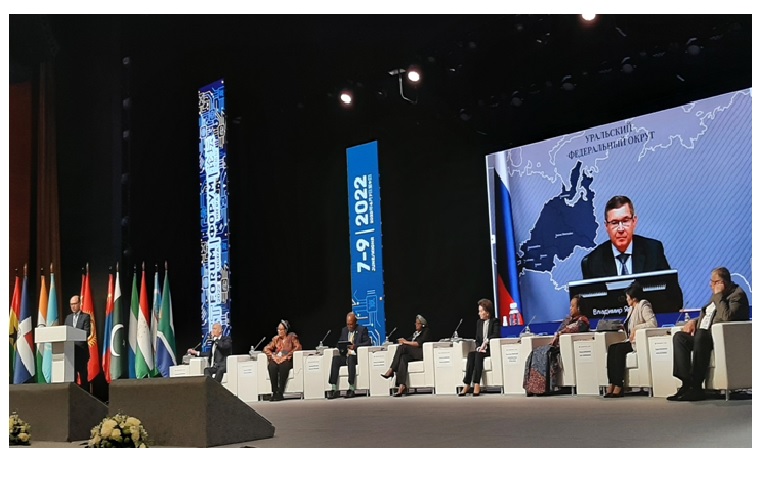 A range of international conferences we
citește mai mult
U.S.: On the Way to Right-Wing Coup and Civil War?
0
1057 Views
29 April 2022
Evgeny PASHENTSEV, leading researcher at the Diplomatic Academy, Moscow
Today, amid heightening negative trends in the world economy, social and property polarization, the deepest crisis in international relations and the insufficient effectiveness of socially-oriented programs of national development, the prerequisites for coup d'état and civil war in various countries arise. For example, Africa reached last year an annual record (4) in the number of successful military coups i
citește mai mult
Russian Security Cannot be Anti-Russian
0
930 Views
15 March 2022
Evgeny PASHENTSEV, leading researcher at the Diplomatic Academy, Moscow ; Matthew CROSSTON, Inaugural Director of the Institute for National Security and Military Studies, Professor of Political Science, Austin Peay State University (TN, USA)
To reflect on the period where the world now finds itself, we propose the term "cold hot war", as this period has significant differences from the classical notion of the "Cold war". Within the framework of the old Cold War, military confrontation between the two superpowers was always indirect. "Proxy" conflicts only emerged between their respective allies, when there was an intersection of interests in various regions of the world, but these never happened direc
citește mai mult
Conferință despre Transnistria, 4 – 5 Martie 2022
0
1189 Views
8 March 2022
Marius Vacarelu
Împlinirea a 30 de ani de la unul dintre cele mai dificile momente ale istoriei estului Europei a constituit temeiul unei conferințe științifice de prestigiu organizate în colaborare de către instituții de învățâmânt și cercetare din Chișinău, Târgoviște și București.
Conferința cu titlul "Războiul de pe Nistru din 1992: 30 de ani după..." a fost organizată de către Asociația Națională a Tinerilor Istorici din Moldova (ANTIM),
citește mai mult
Forcing the Correct Choice: Deterring Right-Wing Radicals and Preventing Threats to Nuclear Facilities in Ukraine
0
1035 Views
7 March 2022
Evgeny PASHENTSEV, leading researcher at the Diplomatic Academy, Moscow
According to official statements by the Russian Federation, its army's special military operation in Ukraine aims to both "demilitarize" and "denazify" the country. This operation is being carried out in a large state with a developed nuclear power industry, fairly powerful army (the largest in Europe outside of Russia and Turkey) and high firepower (22nd place in the world according to 2022 Military Strength Ranking (Global Firepower, 2022)). One of the primary o
citește mai mult
Young researchers from four countries discussed the threats of malicious use of artificial intelligence for international information and psychological security
0
871 Views
18 February 2022
Elizaveta Yuryevna Petrenko, Faculty of International Relations, Diplomatic Academy of the Ministry of Foreign Affairs of the Russian Federation
The expansion of the artificial intelligence (AI) usage has been causing deep concerns in experts' circles for a long time. However, it is getting out AI of human control that tends to be regarded and securitized as the main threat. Such a scenario, nonetheless, does not take into account the fact the capabilities of AI can be deliberately used for criminal purposes.
Researchers from different countries are vigorously studying
citește mai mult
International group of experts on the Malicious Use of Artificial Intelligence and Challenges to International Psychological Security.
0
901 Views
6 February 2022
Report of Evgeny PASHENTSEV, leading researcher at the Diplomatic Academy, Moscow
The analytical report "Experts on the Malicious Use of Artificial Intelligence and Challenges to International Psychological Security", published by the International center of socio-political researches and consulting on December 2021, is dedicated to the multidimensional problem of MUAI, the awareness of which is currently being raised both in academic expertise and in a vast sphere of the public opinion. The multidimensionality of MUAI is determined by its inte
citește mai mult
The US Strategic Provocations before and during the Olympic Games: The Stakes Are Growing
0
956 Views
16 January 2022
Evgeny PASHENTSEV, leading researcher at the Diplomatic Academy, Moscow
Introduction. To make your foe act in a definite way through the planned escalation of events, thereby making him lose his position and his tangible and intangible assets – that is the essence of any international provocation. In history, one can find many examples of strategic provocations with long term goals and, very often, grave and long-term international consequences. The Gulf of Tonkin incident in August 1964 – where a North Vietnamese to citește mai mult